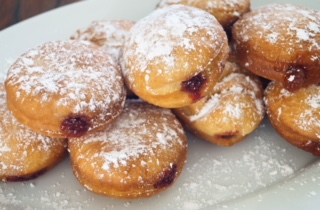 Berliners are jelly doughnuts that are typically made and served on Fat Tuesday to indulge in something with extra calories before the fasting days ahead of Lent. You don't have to wait all year for them, you can enjoy this treat with any of our fruit forward jellies and jams from Essendorfer. Our fruit sauces are also great with waffles, pancakes, cookies and cakes.
Berliners (German Doughnuts)
Makes 14-18 doughnuts
Ingredients:
1 cup warm milk (115 F)
3 Tbsp. unsalted butter
2-1/4 teas dry yeast
3-1/2 c. flour
3 Tbsp. sugar
1/2 tsp. salt
3 egg Yolks
10 ounces of your favorite Essendorfer Jam or Fruit Sauce
2 c. confectioner's or superfine baker's sugar
In a small bowl, combine warm milk and butter. Sprinkle yeast over and stir. Let it rest for 10 minutes until it starts to foam.
Combine flour, sugar and salt in work bowl of a food processor, using the dough blade. Add milk and egg yolks, process until smooth.
Place dough in a lightly greased bowl, and turn to coat all sides of the dough. Cover, keep in a warm area and let rise about an hour until doubled in size. Place bowl in refrigerator to chill dough to make it easier to roll out.
On a lightly floured surface, roll dough 1/2" thick, use a 3" round cutter and let rise about 30 minutes. In a large saucepan, heat at least 3" of peanut, safflower or canola oil (or any neutral oil good for frying) to 375' F.
Fry the doughnuts to avoid overcrowding golden brown about 4 minutes each side. Remove with a large slotted spoon and drain on paper towels.
Fill a pastry bag with the jam you've selected and use a toothpick to poke a hole in the doughnut to pipe in the jam. Dust with powdered sugar and enjoy while warm!
FESTIVE HOLIDAY ENTERTAINING
Made easy with Essendorfer Genussschmelzerei's Luciano Fabioso
Excite your PALATE
WITH THE FLAVORS OF essendorfer
Exotic Garlic Pesto and Bread Spread
Essendorfer's Exotic Garlic Pesto & Bread Spread is the perfect marriage with a slice of crusty French baguette. Made from wild garlic, it is not as pungent as regular garlic but has more healing properties like anti-inflammatory, antifungal, antioxidant and aids in digestion and reduces blood pressure. Try it as a shrimp dip or saute your shrimp or veggies and pasta in this for a quick and delicious meal. It is a wonderful substitute for garlic butter on meat or create a special savory salad and mix it with your favorite ingredients as a dressing. For more ideas on how to use these incredible sauces and pestos, check our page on recipes and ideas and follow us on Facebook @Essenco for updates.
Raspberry Toni: A fruit reduction made of raspberries picked at the peak of the season, and without seeds that stick between your teeth! Impress your guests by pumping up your Prosecco with this fruity secret ingredient, or add it to your cheese platter as an accompaniment to harmonize the flavors of cheese with sweet fruit. For a memorable ending, drizzle over your dessert, or serve with cookies or ice cream. Follow us on facebook @Essenco for live demo updates and give Essendorfer a try.
"538" steak and dipping sauce
Essendorfer's "538" steak and dipping sauce is a one-of-a-kind, U.S. born sauce that was inspired from Mr. Essendorfer's culinary adventures in Florida. This steak sauce will reveal its extraordinary flavors perfectly with a nicely grilled, juicy steak or give your veggies a wake up call! Keep an eye out for more information and follow us on facebook @Essenco for live demo updates to give Essendorfer a try.